-> Published on: 27-04-2023







-> Benefited Readers - 97 and Counting
23 Significant Tech Layoff Statistics for 2023
Reading time:
14 min read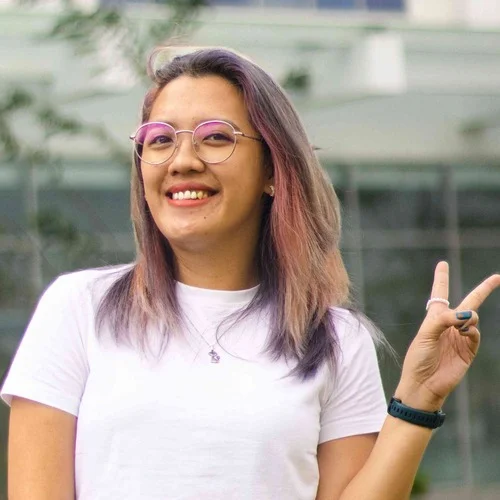 Girlie Defensor
Joined June 2023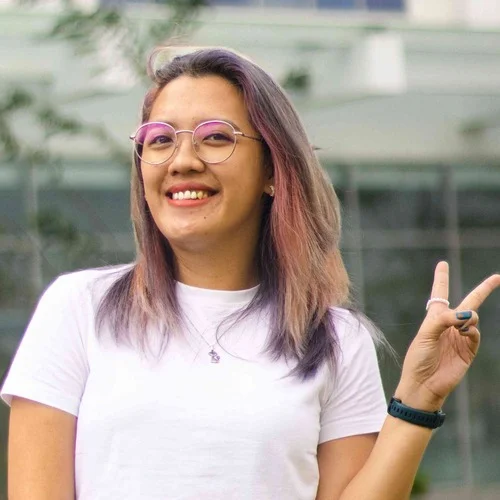 Girlie is an accomplished writer with an interest in technology and literature. With years of experi... | See full bio
The year 2022 ended with much uncertainty in the tech industry's future. Unfortunately, 2023 was hit full swing with devastating layoffs in 1056 IT companies that fired 164,511 employees.
Even tech titans like Google, Amazon, Meta, and Microsoft weren't immune. Still reeling from the aftereffects of the pandemic, inflation, higher interest rates, inflation, and overhiring are just some of the key culprits in tech's ever-changing landscape.
In this article, we'll delve into the status of several tech companies in the US and worldwide. We'll also look at the various reasons the layoff has been continuing. Read to learn more.
Editor's Choice
Google's parent company, Alphabet, laid off 6% of its employees.
Meta announced another 10,000 employees would be laid off in the coming months of 2023.
Microsoft sacked 10,000 employees.
Amazon plans to lay off another 3% of its workforce.
Salesforce is slashing 8,000 employees.
Dell is letting go of 6,650 employees.
Twitter is axing 10% of its remaining staff.
Accenture will lay off 19,000 employees.
Global growth will drop to 2.9% in 2023.
56% of laid-off employees are females.
How Many Tech Companies Are Cutting Jobs?
The number of connected devices on earth is expected to reach 75 billion by 2025. However, that doesn't seem to correlate positively with employee numbers.
As of writing, 173,880 employees were laid off this first quarter of 2023. Six hundred-seven tech companies have started sacking their people, yet the prediction is this number will continue to rise. With the continuous layoff announcements from tech giants, there would be a state of unrest for millions of tech workers worldwide.
Twitter:

🚨 Big Tech Layoffs in the US

Over 2,00,000 IT Employees have been Laid Off by Google, Meta, Microsoft, Amazon etc

There are more than 50,000 Indian Employees in the US who need to find another job in 60 days or leave within 10 days after becoming out of status

— Ravisutanjani (@Ravisutanjani) January 24, 2023
Below are the recent statistics on tech layoffs based on location, demographics, and reasons.
US Tech Layoff Statistics
The US is the leading hub for anything tech, with Silicon Valley alone reaching $14 trillion in aggregate market cap in 2022. However, even tech titans aren't immune from pulling the plug on their workforce.
It's hard to know how the US job market will go from here on, but we can try to grasp how massive these layoffs are by checking out the latest stats.
1. Google's parent company, Alphabet, laid off 6% of its employees.
(Computerworld)
Google announced in January that they're laying off 12,000 employees. That is the equivalent of 6% of their global workforce.
The announcement from CEO Sundar Pichai gave assurances that the affected employees would receive a minimum of 16 weeks of severance pay. They would also get six months of health benefits in the US Benefits for those in other regions will be based on local laws and practices.
2. Meta announced another 10,000 employees would be laid off in the coming months.
(TechCrunch)
Meta is the parent company of the top-performing social media platforms, Facebook, Instagram, and WhatsApp. Despite its darling Facebook being the world's third most visited website, Meta cut 13% of its workforce in November 2022.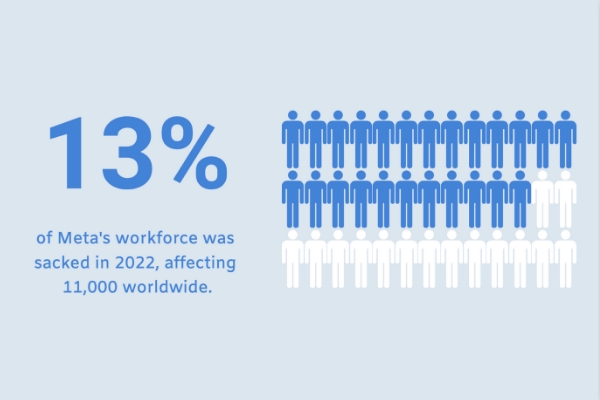 That is about 11,000 employees worldwide. However, that continued because they announced on April 18, 2023, another round of layoffs. Later in this article, we'll further discuss Meta's workforce numbers.
3. Microsoft sacked a total of 10,000 employees.
(USA Today)
The biggest software company isn't immune to layoffs. Microsoft sacked 5% of its employees in various engineering departments.
CEO Satya Nadella said that the cuts were in response to macroeconomic conditions. Also, they would focus on key strategic areas that will align with the changing customer priorities.
He assured that Microsoft would treat its people with dignity and respect, allotting a $1.2 billion budget for severance costs, etc.
4. Amazon plans to lay off another 3% of its workforce.
(CNBC)
Amazon has already laid off 18,000 employees between November 2022 and January 2023. But as announced in March this year, it will lay off 9,000 more. Those affected are from the departments like:
Recruiting and human resources groups
Retail
Devices
In this other round of layoff, the following departments will be affected:
Amazon's cloud computing
Twitch
Advertising
As expected, Amazon laid off many of their employees to save on costs, reportedly causing low morale after massive job cuts and mandatory office work for those who were lucky enough not to get axed.
5. Salesforce is slashing 8,000 employees.
(Bloomberg)
Based in San Francisco, CA, Salesforce took off in 2009 after reaching $1 billion in yearly revenue. A top maker of CRM software, Salesforce, intends to improve profitability by focusing on efficiency and AI products.
While Salesforce became popular in the 2010s because of its overall adaptability and efficiency, it's aggressive hiring during the pandemic became its undoing, only to reel back in 2022 due to more "measured" buying decisions by its clientele.
Because of this, they announced in January 2023 that they are reducing the company's headcount by 10%.
6. Dell is letting go of 6,650 employees in 2023
(CNBC)
Dell will let get about 5% of its workforce, according to an announcement they made in February. The company reported a 28% decrease in global shipments of PCs and laptops in 2022. For this reason, they are cutting down their employee number. Layoff is Dell's way to stay ahead of the economic recession.
7. Twitter is axing 10% of its remaining staff.
(CNN)
While Twitter earns an estimated $1.41 billion yearly in ad revenue, it still had one of the highest and most publicized layoffs in 2022.
Elon Musk shocked the world when Twitter laid off 50% of its workforce in 2022. However, the company axed another 10% in February 2023. They are now under 2,000 staffers for 7,500 before Musk's acquisition.
The social media platform's value had a 55% drop since Musk acquired it in October. Still, Musk believes that it will be worth $250 billion someday.
8. Groupon lays off another 500 employees.
(TechCrunch)
The e-commerce company announced another restructuring phase this year after laying off 500 employees last August. Groupon faced challenges with increasing competition in the business. Laying off nearly 20% of their workforce would be cutting costs.
9. Paypal had cut 7% of its workforce.
(Computerworld)
Dan Schulman, Paypal's president, and CEO, announced through the company's newsroom that they would reduce their workforce by approximately 2,000. Paypal is known as a leading online payment system, but the macroeconomic challenges and slow e-commerce trends are heavily impacting the company.
10. Airbnb dismissed almost 30% of its recruiting staff.
(Yahoo Finance)
The lodging rental company operates globally with almost 6,800 employees. Despite wanting to curb the layoffs, Airbnb still laid off 30% of its staff from recruiting.
After being affected by the pandemic restrictions, it had already let go of 25% of its workforce in the previous years.
International Tech Layoff Statistics
While most names you hear laying off their employees on the news are US companies, this doesn't mean the rest of the world is spared.
The US outsources 300,000 jobs from other countries from services mainly in:
Accounting
IT
Digital marketing
Human resources
Customer support
Most jobs are in the Global South, such as India, China, and the Philippines. However, cost cutting, coupled with fear of an upcoming recession, even big companies in developed companies had to let go of some of their talents.
11. Accenture will lay off 19,000 employees.
(CNN)
Irish-American company Accenture is known for providing professional tech services to global businesses. Though they are worth $167 billion, they are still trimming costs for economic reasons. Over the next 18 months, it will say goodbye to 2.5% of its 738,000 employees.
12. Spotify reduced its workforce by approximately 6%.
(Forbes)
Sweden-based music streaming company Spotify joined the massive tech layoffs this year. CEO Daniel Ek announced in January that they were in the process of dismissing around 600 employees.
Twitter:
Spotify plans to cut its workforce by about 6% as part of broader cost-saving measures, the latest in a wave of tech layoffs https://t.co/u0pIofRZL4

— The Wall Street Journal (@WSJ) January 23, 2023
Investors saw this move as a positive sign of cost-cutting, thus gaining higher stock prices. After the announcement, the stock jumped beyond the $102 mark.
13. Ericsson's cost-cutting plan involves laying off 8% of workers.
(CNBC)
Ericsson is a provider of Information and Communication Technology. Like Spotify, it is also Sweden-based with a global workforce. Ericsson has 105,529 employees worldwide, so laying off 8% will equal 8,500 workers. This company aims to reduce around $860 million in costs by the end of 2023.
14. Health Tech Company Philips will reduce its workforce by 6,000.
(Reuters)
Dutch company Philips will be slacking 13% of its workforce to restructure and restore its profitability. The layoff will come in waves starting this year but will expand until 2025.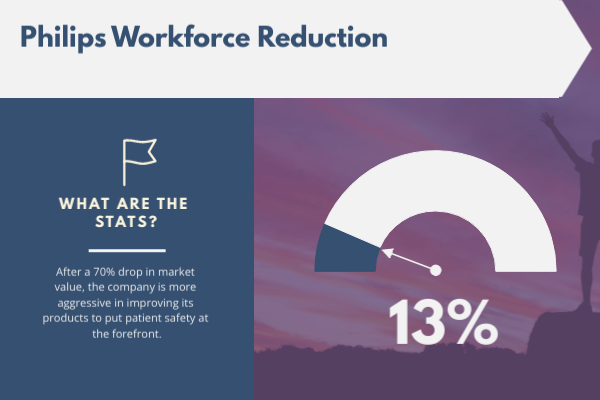 After a 70% drop in market value, the company is more aggressive in improving its products to put patient safety at the forefront.
15. SAP reduced headcount by 2,800.
(Computerworld)
SAP is among the top software companies specializing in programs for various business processes. CEO Christian Klein announced the need for the company's targeted restructuring after its net income dropped by 68% in Q4 2022.
Unlike other tech companies that named over-hiring a key reason for massive layoffs, Klein stressed that they did not overhire. However, they still needed to lay off 2,800 employees.
Reasons for Tech Layoff Statistics
Many tech companies cited the economic recession as a reason for downsizing. Occurring on average every three-and-a-quarter years, recessions have always been part of the ebb and flow of global economies.
However advanced the tech industry, it still has not figured out a future-proof formula for holding on to talents while growing. Unfortunately, it's their employees who bear the brunt of recessions.
With the pandemic factoring in the economy's slowdown, let's check out some contributing factors below.
16. Real GDP decreased by 1.6% in Q1 2022
(Bureau of Economic Analysis)
The slump in real gross domestic product in the US incites fear of an economic recession. Other than the slowdown brought by lockdowns during the pandemic, there have been other factors, such as the war in Ukraine, the government debt ceiling, and high-interest rates.
Company layoffs are a form of survival method in times like this. When profits and revenue are leaner, cutting company costs becomes the crutch.
17. Global growth will drop to 2.9% in 2023.
(International Monetary Fund)
According to the IMF, the prediction for how much the world economy will grow in 2023 has increased slightly from the projection in October 2022. But it's still not as high as the average growth rate over the past 20 years.
Global economic growth is slowing down because of two main factors: the central banks increasing interest rates to control inflation and the ongoing conflict between Russia and Ukraine.
18. Microsoft is investing $10 billion in OpenAI.
(Forbes)
Where most tech companies downsized, the AI market expanded a 19.6% expansion. While employees took a dive, AI thrived in 2022. Within one year, its market size reached $136.6 billion.
Microsoft and many other tech giants are joining the AI train. Soon after announcing that they would lay off 10,000 employees, Microsoft also announced that it plans to pool about $10 billion of its resources in OpenAI.
OpenAI is an artificial intelligence company that created ChatGPT. Similarly, Google is known to be working on its own AI technology that will rival ChatGPT.
CEO Sundar Pichai said before that AI is the most transformational technology of all time, so it's no wonder that tech companies are leaning toward AI research and development.
By 2030, an estimated 73 million American jobs will be replaced by automation.
19. Meta's staffers shot up to 80,000 in September 2022.
(TechTarget)
Before the pandemic took as long as it did, Meta reported 48,268 staffers in March 2020. However, the surge in online activity and technological demands lead them to a hiring spree.
They nearly doubled their numbers by September 2022 but announced the layoff of 11,000 employees the following month.
Since people resumed pre-pandemic activities such as traveling and dining out, there has been less demand for tech services. Hence, less need for new hires.
Tech Layoff Demographic Statistics
Minorities, women, people of color, and marginalized groups are affected by tech layoffs despite being underrepresented in the industry, according to Prism Reports.
The tech industry has attempted to address the gender imbalance, but the following data seem to offset the progress.
20. 56% of laid-off employees are females.
(365 Data Science, Reuters, NBCNews)
The tech industry is predominantly male; they comprise two-thirds of the workforce. Yet, the information gathered by 365 Data Science showed that more than half of those laid off are female tech workers. This furthers the gender pay gap in the industry.
In December of 2022, Twitter came under fire after a class action lawsuit was filed against them, claiming that women were targetted during its mass layoffs when it slashed thousands of jobs on the platform.
The plaintiffs claimed they were unfairly sacked in their sex discrimination lawsuit. They also reported that 57% of all laid-off employees were women, compared to 47% of men. In engineering roles, 63% of women were let go compared to only 48% of men.
The lawsuit also claimed that Elon Musk's take over targetted workers with disabilities after barring work-from-home arrangements.
21. 28% of laid-off employees are from HR & Talent Sourcing Departments.
(365 Data Science)
Most employees laid off were outside of tech jobs. The largest group worked in HR and recruiting, which is understandable due to the rollback from the hiring spree.
With fewer new hires to recruit, there's also less need for HR staff. Moreover, a lot of HR tasks are also becoming more automated. Other affected in the workforce are:
Software engineers (22.1%)
Marketing employees (7.1%)
Customer Service (4.6%)
The distribution of layoffs by position is similar among Twitter, Amazon, Meta, Microsoft, and Google.
22. Millennials account for 94% of layoffs.
(Revelio Labs)
Millennials make up 79% of the workforce. However, most layoffs impacted those within the 30-40 age range. Those with bigger salaries than their peers get sacked even though they have seniority and more expertise.
Tech firms that aim to save costs have also started booting out staff who have increased their market value over the years.
23. The average job experience of those laid off is 11.9 years.
(365 Data Science)
Since the layoffs have impacted the millennial generation the most, their average work experience is almost 12 years. Seniority level wasn't a primary selection criterion.
Factors for this include:
Higher salaries
Challenge of the hiring spree
Overstaffing
Many experts agree that some companies use mass layoffs to justify older workers before hiring newer, younger ones to save on salaries.
Final Thoughts
Despite being the industry with the fastest growth, tech is no stranger to layoffs. Recent statistics show that tech firms are leaning toward restructuring to respond to the global economic downturn.
The COVID-19 pandemic has brought unprecedented challenges. The pandemic sped up the adoption of remote work and digital transformation. However, since various economic sectors have started to shift back to pre-pandemic activities, there is less demand for tech services.
In line with the less demand for tech services and moving to post-pandemic times, the layoffs affected most HR & Talent Sourcing, software engineers, marketing employees, and customer service representatives.
It is worrisome that women are the most affected by layoffs despite being underrepresented in the industry. Although the bleak economic landscape necessitates company layoffs, there is also a need to prioritize diversity in the tech industry.
Frequently Asked Questions.
---
How can employees protect themselves during tech layoffs?
Negotiating for severance packages and other benefits would be a good start. Many tech companies assured their employees that there would be ample budget for laid-off employees.
Is there a way to minimize layoffs?
Implementing cost-cutting measures before layoffs become necessary is a way to boost employee morale amidst uncertainties in the current economic downturn.
Are tech layoffs more common in certain regions?
89% of those affected by layoffs are in the US.
Leave your comment
Your email address will not be published.
You may also be interested in.