7 Ways to Unlock an Android Phone Without Losing Data
Harsha Kiran
Updated · May 05, 2023
Have you ever found yourself staring at your phone while trying to recall the "strong password" you set up? Or maybe you received a gifted phone with a misplaced PIN? Need to retrieve photos and contacts from an old device?
Whatever the reason, having a locked phone is always frustrating. Although surveys show that many people reuse passwords, 21% forget them within two weeks.
This article will discuss seven ways to unlock your Android without a password. The cherry on top? You won't have to lose any data! Continue reading to find out how.
Legal Note: Unlocking someone else's phone without consent is a crime in most countries. We do not support ILLEGAL activity, so please check your local laws before using the apps and websites mentioned in this article.
How To Unlock Android Phones Without Losing Data?
Forgetting passwords is a common occurence. Whether you got your password idea from the internet or created it yourself, it can be difficult and complicated to unlock your phone without them.
People often resort to an automatic hard or factory reset to unlock their phones without passwords. However, this method erases all data on the device.
You cannot always guarantee that your files are backed up on storage platforms like Google Drive or even on external storages. Instead, try these alternatives to make sure no file is lost when recovering access to your phone.
Here are "non-data-loss" methods you can try:
1. Unlock your Android Phone using Google Account
A Google Account lets you use Google services such as Gmail, Google Drive, Google Play, and more. It is the iOS counterpart of an Apple ID.
For Android versions 4.4 or older, you can use your Google account to unlock your phone without a factory reset. Here's how:
Unlocking an Android Phone Using a Google Account
Enter the wrong password many times. After several attempts, a pop-up will appear with options like "Try again" or "Forgot PIN."
Tap "Forgot PIN?" or "Forgot Password?" It will take you to the next screen.
Sign in with your Google account. It must be the same Google account you used to set up your phone.
After signing in, create a new password for your device. Confirm.
Try to unlock your phone using the new password. You should be able to access your Android without issue.
If you're using a newer Android version (5.0 or higher), this method may not work. You can try the technique in the next section.
2. Activate Android Device Manager (aka Google Find My Device)
Google Find My Device is a handy tool for Android users. It can remotely locate, lock, and erase your phone.
Here's how to use it to unlock your device:
How to Activate Google Find My Device?
Sign in using the Google account linked to the locked Android device.
Once in, you should see a map with the location of your device.
On the left-hand side of the screen, select the "Secure device" option.
Create a new password for your locked Android device and click "Secure device."
Go to your locked Android device and enter the new password to unlock it.
Please note that your device must be on and connected to the internet for this method to work. In case this fails, try the next one (but expect extra work).
3. Use Android Debug Bridge
The Android Debug Bridge is a tool for troubleshooting Android devices. Unlocking your Android through the ADB takes time and technical know-how.
To unlock your phone via ADB:
Using a USB cable, connect your Android device to your computer.
Open your command prompt (Windows) or terminal (Mac or Linux).
In the command prompt or terminal, type "adb devices." It will list all the devices connected to your computer. Make sure your Android device is listed.
Next, type "adb shell" and press enter. It will open a shell on your Android device.
Type the following command and press enter: rm /data/system/gesture.key. It will delete the gesture key used to lock your Android device.
Reboot your Android device by typing reboot, then hit enter.
Your device will restart without a lock screen. After that, you can access your phone with no problem.
4. Check the Backup PIN Option
If you use a pattern lock, you may have set up a backup PIN. Luckily, you can use this option to unlock your Android phone. Here's how:
Unlocking a Phone Using a Backup PIN
Enter an incorrect pattern on the lock screen many times. After five attempts, you should see a "Try again in x seconds" message.
From here, you should see an option (usually at the bottom) to unlock your device using your backup PIN.
Enter the backup PIN and click "OK." You have now unlocked your device and can access it!
This method will only work if you've already set up a backup PIN. Also, not all Android devices offer a backup PIN option.
5. Experiment with Emergency Call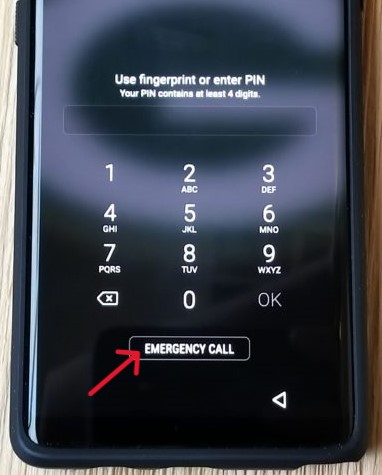 Emergency calls can unlock Android OS 5 phones (not older, not newer) without passwords. Follow these simple steps:
How to Unlock Your Phone with an Emergency Call?
Step 1: Access the Android Emergency Dialer Screen
Tap the "Emergency Call" option to bring up the Android emergency dialer screen.
Enter a series of special symbols in the box. For example, you can type (*) or (#) many times.
Double-tap the series to highlight and copy it.
Tap the screen to paste the copied string.
Repeat this process several times until you can no longer highlight the series.
Step 2: Access the Phone's Settings
Return to the lock screen and tap the camera icon to open the Camera app.
Pull the Notification Panel from the top simultaneously.
Tap the gear symbol at the top of the screen to access your device's settings.
Paste the copied string again into the password box on your phone.
Continue to paste the string until the interface crashes.
Step 3: Unlock Your Phone
The lock screen will disappear. The camera interface will enlarge.
Once the camera app crashes, the home screen will appear, giving you quick access to your phone.
6. Boot to Safe Mode
Safe Mode is a diagnostic mode that starts the device with only critical system apps and services. Switching to this mode bypasses screen locks from third-party apps. Follow these steps:
Switching to Safe Mode
1. Hold the power button of your device until you see a message that says, "Reboot to safe mode."
2. Confirm by tapping "OK." Once booted up, Safe Mode will disable the third-party lock screen for a while.
3. From there, you can either clear the app data or uninstall the lock screen app to regain access to your device.
4. : Restart your device in normal mode by pressing the power button or tapping "Restart."
Note that entering Safe Mode on some devices may differ. Some models may require pressing the power and volume buttons simultaneously.
If the steps above don't work, do a quick Google search for model-specific instructions.
7. Use Android Unlock Tools
Don't worry if your DIY attempts to unlock your Android device have failed. There are two Android unlocking tools available on the market that you can explore.
A. DroidKit
The first tool you can try is DroidKit. It can bypass lock screens like patterns, PINs, fingerprints, and FaceID. It's free to download and doesn't require root access.
To get started, follow these steps:
1. Download DroidKit. Install it on your computer.
2. Connect your locked Android device to your computer using a USB cable.
3. Launch DroidKit and select the Screen Unlocker mode. This opens the Screen Unlocker interface.
4. Click the "Start" button.
5. A pop-up will remind you to connect your device. Click Device Connected. DroidKit will bring up a configuration file.
6. Then, tap the "Remove Now" button to unlock. DroidKit will automatically detect your device and walk you through password removal.
7. Follow DroidKit's instructions to remove your device's password.
8. You'll see the "Screen Lock Removal Completed" page in just a minute. Click Complete.
DroidKit works most of the time. However, if this does not work on your phone, you can also try Dr. Fone.
B. Dr. Fone
Dr. Fone removes passwords, patterns, and PINs from hacked or damaged Android devices. iSkysoft and Wondershare offer different versions, but they're from the same company.
Using the Wondershare version, you can unlock your phone by following these steps:
1. Download and install Dr. Fone on your computer.
2. Connect your locked Android device to your computer using a USB cable.
3. Launch Dr. Fone and select the "Screen Unlock" option. Select "Unlock Android Screen/FFP" or "Unlock iOS Screen."
4. Click the "Unlock Android Screen" option.
5. To unlock LG or Samsung models, choose "Remove without Data Loss." For other devices, select "100% Remove Screen Lock."
6. Find your device's name, brand, and model, then tick "I agree with the warning, and I am ready to proceed."
7. Enter download mode. Turn your phone on, then simultaneously hold the Volume, Home, and Power buttons. Next, press the Volume Up button.
8. Download the Recovery Package. Wait until the process is complete.
9. After downloading, click "Remove Now."
Your Android should be unlocked and password-free after the process.
Key Takeaways
Our phones are very important in our daily lives. Whether you're using it to do a background check on someone or conducting a search such as finding out someone's birthday or address, we can't deny the significant role they play in daily chores.
If you ever find yourself troubled with a locked Android phone, don't panic and hit the factory reset button just yet.
Bypass the lock screen without losing your data using methods like emergency calling or entering Safe Mode. Your trusty Google account and the Find My Device app can also help.
If you're in a hurry, DroidKit and Dr. Fone provide one-click solutions for unlocking your phone.
There are many ways to recover your locked Android phone without risking your files.
FAQs.
---
Will I lose my data when unlocking my Android phone without a password?
No, the methods mentioned in the article unlock Android phones without losing data. However, it's best to back up your data often to avoid losing important files.
What should I do if none of the methods unlock my Android phone?
If you've tried everything in the guide and still need help unlocking your phone, contact your phone's manufacturer or a professional technician.
Can I reset my Android phone to factory settings without losing data?
Unfortunately, resetting your phone to factory settings will erase all your data. You can still back up your data before resetting your phone to restore it later.
Leave your comment
Your email address will not be published.