-> Published on: 08-05-2023







-> Benefited Readers - 31 and Counting
WhatsApp Usage Statistics: How Many People Use It in 2023
Reading time:
14 min read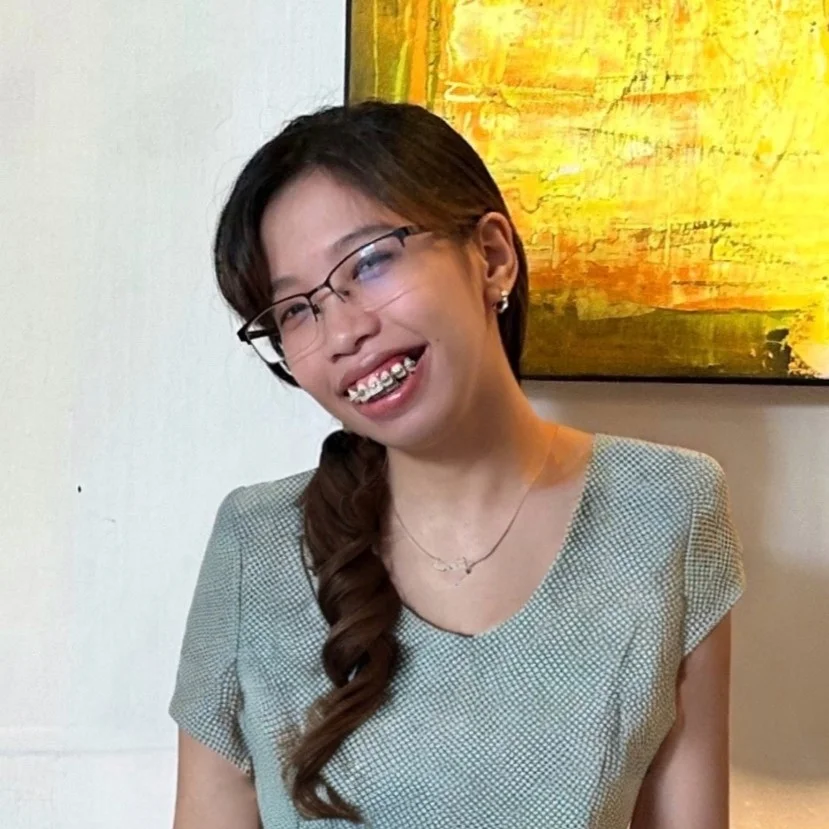 April is a proficient content writer with a knack for research and communication. With a keen eye fo... | See full bio
It's not an exaggeration to say "Everyone Knows WhatsApp in 2023". In fact it has over 2 billion monthly users sending 41 million messages daily.
In an effort to emphasize the popularity of WhatsApp, we covered more such interesting stats related to its 2023 revenue, number of downloads, users demographics, usage statistics and more.
Editor's Choice
As of June 2021, India has the most number of WhatsApp users with 487.5 million.
WhatsApp is available in over 180 countries and 60 languages.
15 billion minutes are spent by WhatsApp users on calls daily.
Most WhatsApp users are males, with 53% as of 2022.
Millennials used WhatsApp the most, with 54% in 2021.
WhatsApp Business is used by over 50 million organizations worldwide.
Facebook purchased WhatsApp for $19 billion in 2014.
WhatsApp was the 4th most downloaded app as of January 2021.
As of 2022, WhatsApp is the 2nd non-Google app with significant downloads in Google Play Store.
At least 20% of WhatsApp users spent over 2 hours daily on the app in 2022.
How Many Whatsapp Users Are There?
WhatsApp has approximately 2.24 billion active users worldwide as of April 2022, making it the most popular mobile messaging app globally.
Use these statistics to learn more about the growth of WhatsApp usage based on countries, demographics, and industries.
WhatsApp Users by Country in 2023
WhatsApp ranks as one of the top-rated online messenger apps. Users around the globe prefer the app as it's free to use and only requires a Wi-Fi connection.
Here are the countries that use WhatsApp in 2023:
1. India has the most WhatsApp users with over 400 million as of June 2021.
(Statista)
Due to WhatsApp unique features for users and businesses, it's utilized in many countries in both social and professional context. India is the leading country with most WhatsApp users as of June 2021.
Here are ten countries with the most WhatsApp users:
India - 487.5 million
Brazil -118.5 million
Indonesia - 84.8 million
U.S. - 79.6 million
Russia - 67 million
Mexico - 60 million
Germany - 49.2 million
Italy - 36.9 million
Spain - 32.2 million
Argentina - 26.5 million
2. 50% of Americans have accessed WhatsApp daily in 2020.
(Statista)
In the third quarter of 2020, 50% of Americans used WhatsApp daily. Regarding weekly usage, 78% of Americans have accessed the app.
82% of American WhatsApp users said they had used the app to contact their family members and friends, while 13% said they used it to strengthen their professional network according to a report in 2019.
Other reasons why Americans use WhatsApp include:
Entertainment (10%)
News source (7%)
Follow brands/companies (4%)
Others (4%)
3. WhatsApp is present in over 180 countries and available in 60 languages.
(WhatsApp, Similarweb)
In 2023, WhatsApp retained its status as the top messaging app globally. 63 out of 100 countries have preferred WhatsApp as the leading app for business and communication. It was followed by Facebook Messenger and Telegram, respectively.
WhatsApp's Monthly Active Users
Since 2013, the growth of WhatsApp users has been apparent. From 200 million users in April 2013, two billion users have accessed the app monthly as of January 2023.
Here's a representation of how WhatsApp monthly users have substantially increased through time: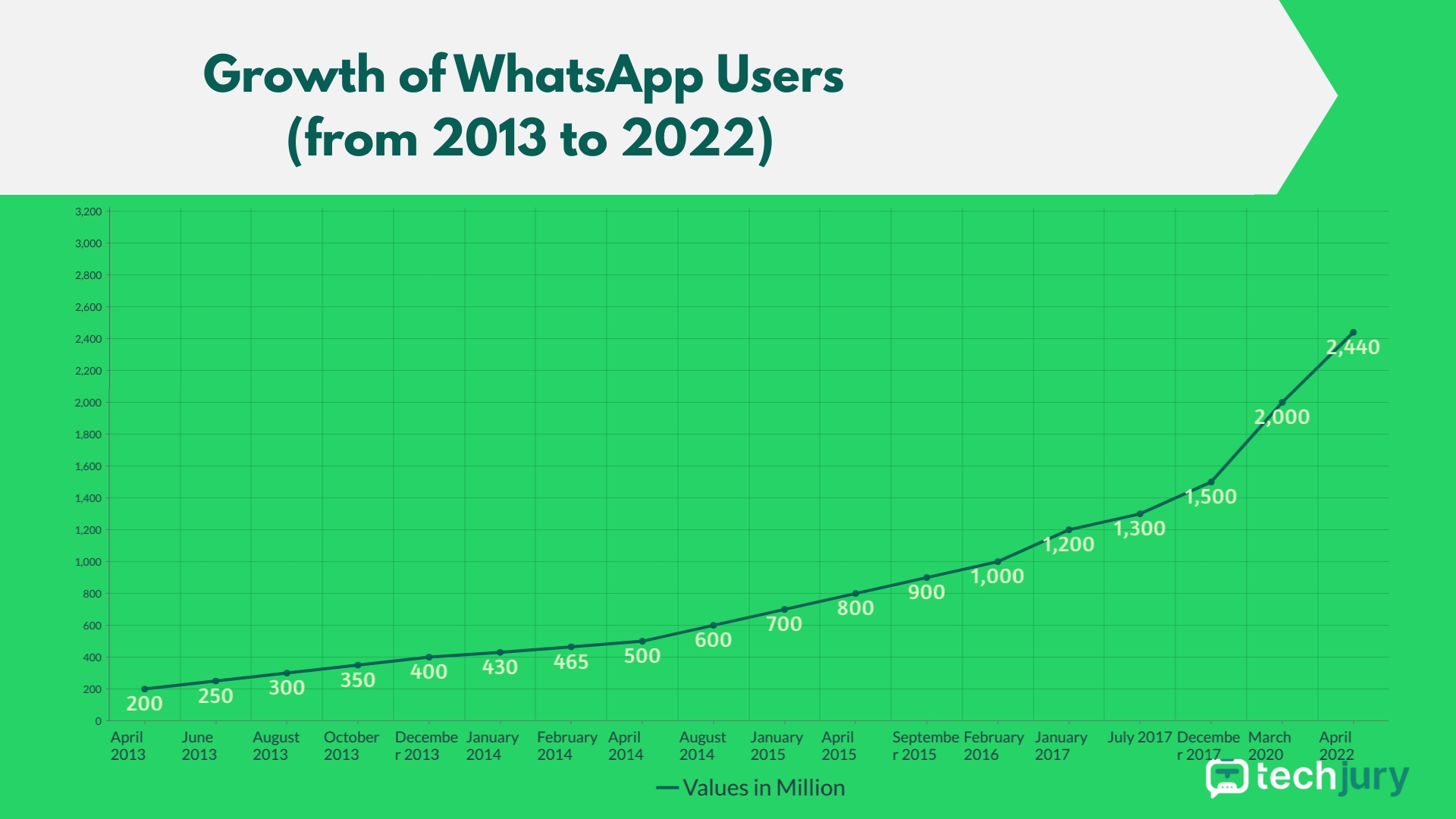 4. From 2016 to 2020, 1 billion more people joined WhatsApp.
(TheVerge)
WhatsApp gained 1 billion users 2 years after its Facebook acquisition in 2014. Mark Zuckerberg saw the potential of WhatsApp as a messaging platform. He purchased it for $19 billion, hoping to grow the app as part of companies owned by Meta.
Before Facebook acquired WhatsApp, it only had 450 million users and made $10.8 million annually. With the efforts of a team led by Jan Koum, co-founder and former CEO of WhatsApp, the app has doubled its user base due to its minimal design and ad-free stance.
5. Overall usage of WhatsApp grew by 40% in March 2020.
(Techcrunch)
As countries worldwide went into lockdown, people tried modern ways to stay in touch with loved ones. At the time, apps like Zoom grew at the same rate as WhatsApp. People worldwide used WhatsApp twice as much as before at the height of the outbreak.
🎉 Fun Fact:
WhatsApp CEO Will Cathcart stated that the number of WhatsApp texts sent rose by 53.84% in 2018. In December 2020, the daily text volume surpassed 100 billion.
WhatsApp Usage Statistics
The number of users of mobile messaging apps such as WhatsApp is projected to grow to 3.51 billion in 2025.
To understand WhatsApp's positive growth, we have outlined valuable statistics on increasing users over time.
6. WhatsApp gets 500 million new users every two years.
(VentureBeat)
There are 500 million unique users on WhatsApp every two years. Before Facebook bought it in 2014, WhatsApp only had 450 million users. It had more than 1 billion users in 2016 and more than 1.5 billion users in 2018.
7. WhatsApp has sent over 100 billion messages daily for 10 years since its release.
(TechCrunch)
A decade after reaching 1 billion, WhatsApp sent 100 billion texts daily. The number of messages it gets shows that the app has increased by over 100 times compared to the daily messages it received in 2022.
8. Users spend 15 billion minutes on calls on WhatsApp daily.
(Influencer Marketing Hub)
Instant messaging is not only the app's best feature; users also love the call functions. During COVID-19, the app saw a daily rise in calls and video chats. The company data presented during March 2020 showed that users spent an average of 15 billion minutes daily via WhatsApp calls.
WhatsApp Usage Demographics
The use of WhatsApp transcends various demographics. In Germany, WhatsApp users aged 24-35 have an 84% penetration rate, and those over 65 have 78%.
Meanwhile, in the U.S., 3 out 10 respondents between 18 and 34 said they have used WhatsApp.
Know more about WhatsApp usage based on demographics through these statistics:
9. 53% of males make up the majority of WhatsApp users as of 2022.
(Statista)
Males constitute the majority of active WhatsApp users, while women stand at 46.5%. It can be attributed to men being more part of WhatsApp group chats than women.
10. U.S. adults aged 30-49 use WhatsApp the most.
(MarketingCharts)
30% of people between 30 and 49 in the U.S. use WhatsApp, making it the average age group that operates the app the most. Next is users aged 18 to 29, comprising 24%, while people aged 50 to 64 only comprise 23%.
11. In 2021, Millennials used WhatsApp the most, with 54%.
(FinancesOnline)
According to a 2021 global survey, Millennials comprised the largest share of WhatsApp users at 54%. It was followed by Gen Z (51%), Gen X (48%), and Baby Boomers (36%).
12. 70% of young consumers in Western Europe used WhatsApp in 2021.
(YPulse)
The high usage among youngsters in Europe is due to WhatsApp's end-to-end encryption feature for messages and calls, which is also why most of them use Telegram - an app known for high-level encryption.
WhatsApp Business Statistics
At least 175 million customers use WhatsApp to connect with businesses, and the platform's appeal is growing as customers increasingly prefer communicating with companies using it.
Here are a few statistics on why businesses must embrace the platform.
13. Over 50 million organizations use WhatsApp Business.
(DataReportal)
With over 50 million organizations using WhatsApp Business, it is the ideal companion for businesses in 2023.
The WhatsApp Business app is for companies that want to use the app to talk to customers. It gives business owners messaging features, categorization choices, and a profile, which can become a fundamental business tool.
14. 54% of businesses prefer WhatsApp to talk to customers and potential buyers.
(NewVisionTheatres)
50% of consumers spend time researching new products and services on social media, and businesses may capitalize on this behavior.
Users and businesses use the app to determine how their orders are going or when the products arrive. Most inquiries are also made in the app and track meetings and seminars.
39% of users also talk to customer service agents on the app, 23% use the app to cite information about marketing brands and product offers, and 33% say the app makes sending and receiving customer inquiries easier.
Here's a tweet on how to maximize your social media presence using WhatsApp Short Links:
Need a little inspo on how to use Short Links? Here are a few suggestions to get you started ✍️ pic.twitter.com/dviAo0nwFX

— WhatsApp Business (@whatsappbiz) June 16, 2023
15. WhatsApp Business may improve customer service by 225%.
(Tyntec)
One of the best things about using WhatsApp for business is how easy it is to talk to customers. Studies done by Tyntec show that WhatsApp Business makes customer service 225% better. It is also said to increase conversion rates by 20% and sales by 27%.
16. WhatsApp Business API messages have a 99% open rate.
(Telemedia)
Users are most likely to engage in WhatsApp messages than emails, which is one of the main benefits of using WhatsApp for business. WhatsApp API messages are opened by 99% of people with a reaction rate of just under 50%.
17. Every day, 175 million people use WhatsApp to contact companies.
(Twitter)
In January 2020, Cathcart noted that 175 million people use WhatsApp to contact companies daily, making it a valuable customer service channel that all businesses should consider.
WhatsApp Revenue Statistics
WhatsApp is free for all and only needs a phone number and Wi-Fi to access its features. However, since the release of WhatsApp Business, the platform has seen an increase in revenue.
In 2022, WhatsApp earned $906 million from WhatsApp Business, compared to the 790 million revenue from 2021, proving that the app's business side is adequate.
Here are some numbers showing how WhatsApp has grown and makes money.
18. As of 2009, the initial investment of WhatsApp was only $250,000.
(FeedDough)
Ex-Yahoo workers Brian Acton and Jan Koum founded WhatsApp in 2009. Koum was inspired by the idea to make an app that allows users to show their statuses beside their names. The concept of putting statuses didn't work out initially due to issues in battery usage and app crashes. But with growing investors, the founders have developed a better version of WhatsApp.
However, in February 2014, Facebook acquired WhatsApp for $19 billion. In 2017, Facebook added more features, such as WhatsApp Business, which marketers vastly use.
19. In 2014, Facebook purchased $19 billion for WhatsApp.
(Forbes)
When WhatsApp first came out, it quickly became famous. It caught the attention of Facebook and broke a record when it bought the app for $19 billion. Since then, WhatsApp's fame has grown, and Facebook has changed, such as adding WhatsApp Business.
20. WhatsApp used to make money by charging users $0.99 per month to use the app.
(FeedDough)
When WhatsApp emerged, the designers were motivated to get around the pay-per-message system that SMS providers use. To deal with this, the team devised a plan for subscriptions. Each person paid $0.99 to have access to Live.
Despite the fee, people flocked to WhatsApp as it let them send photos. However, this model changed after Facebook's acquisition when they removed the fee and added additional features to enhance customer relationships.
21. WhatsApp's valuation comparison rose from $1.5 billion to $98.56 billion.
(CNBC and TechCrunch)
WhatsApp has more monthly and daily active users than Twitter. Facebook pays about 50% of Twitter's market cap. Facebook is also paying 16 times what it paid for Instagram, even though WhatsApp has 15 times more users.
Number of WhatsApp Downloads
In 2021, 3 billion users utilized messaging apps like WhatsApp for online chats, instant messaging, and real-time conversations.
The WhatsApp number of downloads reflects the app's success. In August 2022, the app had 11 million downloads, and the WhatsApp Business app had 3 million downloads.
WhatsApp and WhatsApp Business illustrates how popular the program is worldwide. The app's increasing downloads indicate that it provides a reliable and straightforward texting service.
22. As of January 2021, WhatsApp was the 4th most downloaded app.
(AppFigures)
In January 2021, TikTok did well in the App Store and Google Play Store. On the other hand, WhatsApp came in fourth on both platforms.
Overall, it has fewer downloads than Telegram (68 million), TikTok (60.9 million), and Facebook (43.9 million). During that time, 42 million people downloaded WhatsApp.
23. WhatsApp made it on the list of a few apps on the Google Play Store that gained 5 billion downloads.
(HTTech)
WhatsApp for Android has surpassed the 5 billion download mark, making it the 2nd non-Google app with most Android apps with significant downloads as of 2022.
This figure includes downloads from the Google Play Store and installed by default copies, as Huawei and Samsung have previously included the app with some smartphones.
👍 Helpful Article:
Learn more about the history of social media platforms, which are vast collections of breakthroughs, failures, and beginnings by their developers.
24. A report in 2020 revealed more than 600 million WhatsApp downloads on Google Play Store alone.
(BackLinkO)
The United States alone contributed 7.5% or 45 million of all downloads. The amount of downloads also varies by country, with Sweden seeing the most significant increase in the Q1 of 2021, accompanied by Hong Kong, Singapore, Hungary, and Spain.
Ultimately, the numbers show WhatsApp's increasing recognition and demand in numerous countries, emphasizing its effect on the communication and social networking environment. Here are the stats:
WhatsApp downloads have risen since 2013, hitting 500 million.
Figures increased from $2 billion in 2016 to $4 billion by 2019. In 2020, the number of downloads reached approximately 5 billion.
Sweden had the highest download numbers in the first quarter of 2021 at 39%.
Sweden had the highest growth rate, followed by Singapore and Hong Kong. Spain and Hungary also saw significant growth.
App downloads in France, Sri Lanka, Malaysia, Poland, and Turkey increased by 38%, 31%, 22%, and 17%, respectively.
There were forty-two million downloads in January, with 5 million from the App Store and 30.3 million from Google Play.
Average Time Spent on WhatsApp
Users spend more than 3 hours browsing social media daily. According to a study by the University of Southern California, the average time spent on WhatsApp is at least 55 minutes.
These figures show how significant WhatsApp is and how it has evolved into a vital mode of communication. It is easy to see why individuals spend ample time on WhatsApp since it is utilized for personal and business contacts.
Here are more statistics on WhatsApp's average time use by its users:
25. Over 20% of users spend over two hours daily using WhatsApp in 2022.
(Hootsuite)
It's easy to see why people use WhatsApp for much of their work and personal communication. As people returned to normal after the pandemic, they used their phones and WhatsApp less.
In 2020, people who used an app logged in for more than 19 hours each month.
In 2021, people used WhatsApp for 18.6 hours per month.
Brazil is the place where people spend the most time on WhatsApp. The average time people spend on WhatsApp each month is 29 hours, and Argentina is second with 28.8 hours.
Conclusion
WhatsApp popularity and usefulness are well-placed. In a time of instant messaging and constant communication, it paved the way for users to connect despite the distance and constraints.
Aside from communication, WhatsApp's potential as a business tool also provided companies and businesses to further their reach to customers. It also helped organizations grow locally, to internationally.
Since WhatsApp can be valuable on a wide range of devices, the app will continually grow in popularity over the next few years.
FAQs.
---
When was WhatsApp most downloaded globally?
2017 and 2019. WhatsApp was the most popular app in the world, with 924 million downloads in 2017 and 850 million in 2019.
What percentage of internet users use WhatsApp?
69% of internet users worldwide, except China, use WhatsApp.
How much activity is there on WhatsApp daily?
Every day users send over 100 billion WhatsApp messages and use 2 billion minutes for talking and video chats.
How many countries is WhatsApp available in?
You can use WhatsApp in 180 countries and 60 different languages.
How is WhatsApp Business essential for organizations?
WhatsApp messages have 45-60% click-through rates and an open rate of 98%. These numbers are five times greater than SMS services and email. So, WhatsApp Business is vital for organizations.
Leave your comment
Your email address will not be published.
You may also be interested in.