-> Published on: 20-04-2023







-> Benefited Readers - 124 and Counting
10 Websites To Watch F1 Live For Free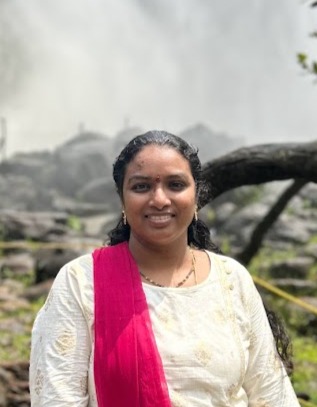 Florence is a dedicated wordsmith on a mission to make technology-related topics easy-to-understand.... | See full bio
F1 is a profitable global motorsport governed by the International Automobile Federation, generating over 2 billion US dollars in 2021.
Getting tickets to an F1 event can be a difficult ordeal, as getting tickets for races can be extremely challenging due to the huge demand from fans. Moreover, the average single-day ticket price for the 2022 season averages a whopping $2000.
Due to FOMO and the sheer lack of access to events, many fans opt to watch using online sites. This article includes a list of websites that allow you to watch the F1 races live for free from anywhere in the world.
⚠️ Legal note:
Techjury does not promote illegal online activities. Research your local laws regarding VPN use and accessing websites mentioned in this article.
🔑 Key Takeaways:
F1 is an in-demand entertainment for many sports fans around the world.
You can watch F1 programs online for free over at Servus TV, Sportsurge, 10Play, Buffstreams, VIPBox, RTBF, RTL, ORF, Reddit F1 Streams, and TotalSportekF1.
Some streaming sites may contain annoying ads and malware or are geo-restricted.
Use a VPN to watch F1 Races online safely. Our top picks are ExpressVPN, Surfshark and NordVPN.
Best Sites To Watch F1 Online For Free
63% of people aged 18-34 regularly watch live-streamed content. Especially with such as huge fanbase, the demand for F1 content is huge. While snippets of games can be seen on some of YouTube's 51 million channels, nothing beats watching the sport in real-time.
Regardless, figuring out how to watch F1 races online can be challenging. However, with the power of the internet, there are tons of solutions. Many people use VPNs to access and watch F1 races online from the comfort of their homes.
Below is a list of websites to watch your favorite F1 race online:
1. Servus TV
Austrian fans can catch live F1 races on ServusTV, a free media platform in Wals-Siezenheim, Salzburg. The ServusTV app is available on iOS and Android and offers 24/7 streaming services.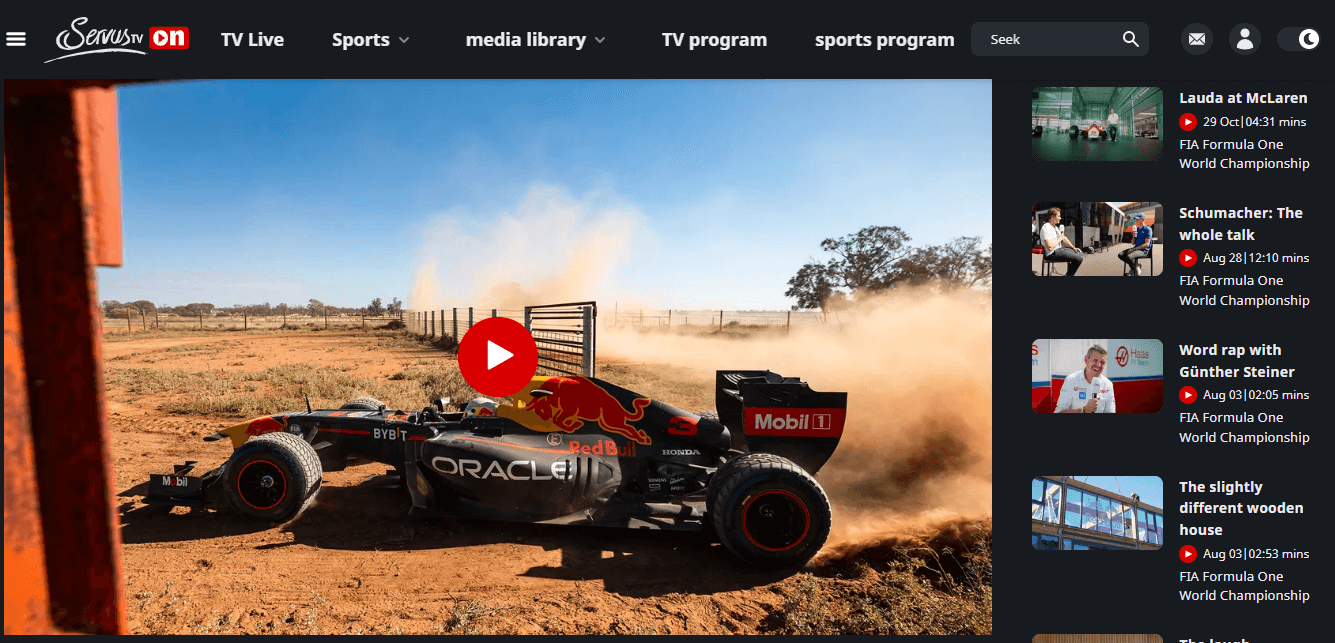 2. Sportsurge
Sportsurge is a streaming service that compiles live F1 streams from multiple sources, giving fans a convenient and free way to watch races on any device. The site offers several viewing options, including adjusting the stream resolution based on the internet's strength.
3. 10Play
10 Play is a free streaming service offered by Network 10 that enables viewers to watch races on their mobile devices, tablets, or computers from anywhere. The 10 Play app can be easily downloaded on Android and iOS devices, giving viewers greater flexibility to watch the races.
4. Buffstreams
Buffstreams F1 is a website that provides free HD-quality F1 live streams sourced from Reddit with regular updates. The site also offers an app with Chromecast support, in-app navigation, and social media sharing for F1 and other sports.

5. VIPBox
VIPBox is a free streaming platform that provides F1 fans access to live streams from various sources. The site allows users to watch races on desktop or mobile devices without registering, downloading, or installing.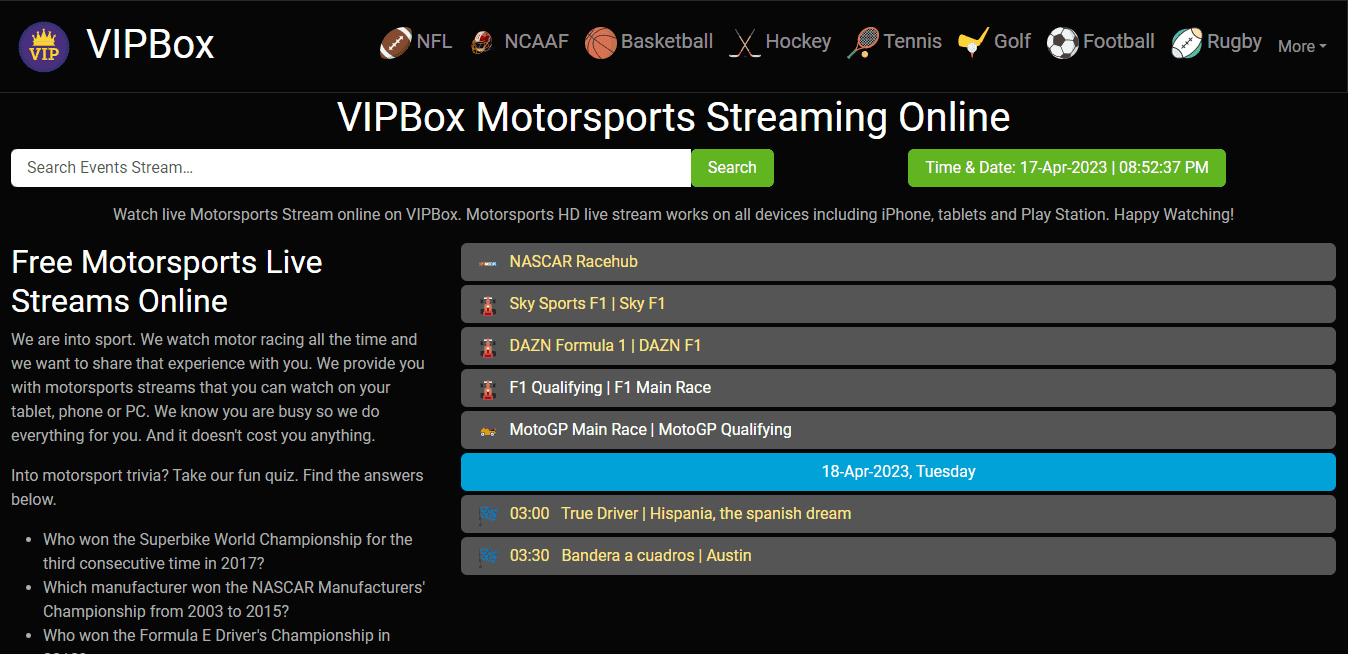 6. RTBF
RTBF is a Belgian public broadcasting organization that broadcasts Formula 1 races live on its website and mobile app for free. Motorsport fans can easily access and enjoy Formula 1 racing for free through RTBF.

7. RTL
RTL, the biggest private network in Germany, operates in France, Germany, Spain, and Luxembourg. On their platform, RTL Luxembourg F1, viewers can stream every F1 race, access comprehensive information on F1, and stay updated on the latest news and standings.
8. ORF
Viewers can access live streaming of selected F1 races, including the Grand Prix of these countries:
Austria
Saudi Arabia
Azerbaijan
Spain
UK
Hungary
Italy
Japan
Qatar
Mexico
To stream these races, visit ORF TVthek and enjoy ORF1.
9. Reddit F1 Streams
This free platform offers live coverage of F1 races, qualifying matches, and other captivating events from anywhere worldwide. The content is regularly updated, so you always have the latest information on everything F1.
Reddit can also feel much more engaging due to interactions you may end up having with the 50 million active users on the site. You may also have fun, make discussions, share predictions, and have watch parties with other fans with similar interests.
10. TotalSportekF1
TotalSportekF1 offers high-quality, free live streams of F1 races that you can easily access via tabs for different dates. The website also provides a blog and news section for users to catch up on interesting topics.

You can now follow your favorite Formula One team online without missing a single race.
Watch F1 Race Online Safely
While free streaming sites seem appealing during racing seasons, they often come with risks like malware or potential legal consequences in other countries.
Here are additional reasons why a VPN is a wise choice when streaming online:
If you're still not convinced, more than 1.6 billion people worldwide already use the technology. That's more than the entire population of China!
Here are some of the best VPN providers to consider:
ExpressVPN is a trustworthy option for bypassing geo-blocks and accessing different sports streaming sites.
Surfshark uses AES-256 encryption which means you are protected from potential hacking attempts.
NordVPN offers a broad selection of servers and includes ad-blocking features allowing you to have a great F1 race online viewing experience.
Bottom Line
F1 fans who prefer online streaming may need help finding affordable options to watch their favorite teams. However, free streaming platforms are available, although they may not be accessible in all locations.
VPNs are a solution to bypass geo-restrictions and enhance privacy while enjoying F1 races online.
FAQs.
---
Does Youtube have live F1?
Yes. Another great way to watch F1 races is Youtube. It has a paid subscription but offers a free trial.
Where is the cheapest place to watch F1?
Hungary has the cheapest F1 tickets, which cost an average of $184 USD. There are also races you can go to that won't break your wallet, like the ones in Bahrain, Australia, and Canada. Cheap tickets can also be found in Austria, Spain, Japan, and Italy (Monza).
What is the difference between F1 live and international?
Formula 1 exclusively covers F1 on F1 Live. Expert commentary (English only) and visitors cover all sides. F1 International is live racing with native-language commentary.
Leave your comment
Your email address will not be published.
You may also be interested in.